Here's What's In Store For You..
Watch Andy Moore and Yad break down their entire Daygame Blueprint and deconstruct what it really takes to meet and seduce women during the day. There are live in-field videos and step-by-step training.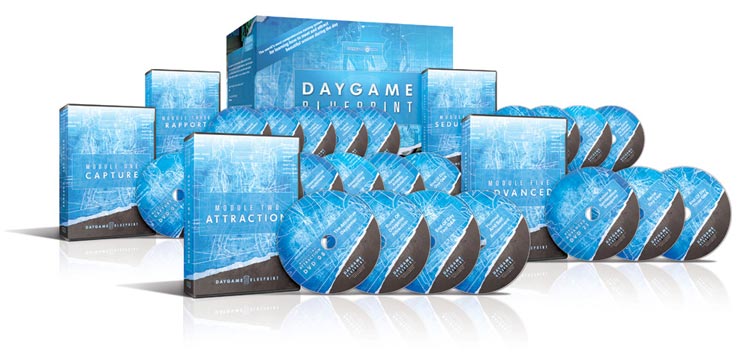 Here's what's included in the modules:
Module 1: "The Capture Phase"

This is the first part of the Daygame Blueprint and this is where you'll learn the most crucial part of any Daygame interaction – How to Approach and CAPTURE a woman's attention.
But before we take you through any of the CAPTURE Phase, first you'll get our unique strategy for completely shattering approach anxiety. We've given this "Mindset Trick" to thousands of guys and it's proven to work even with the most inexperienced of guys. Using this just a couple of times will eliminate approach anxiety for good.
You'll then discover…
How to stop ANY woman in her tracks, no matter how hot she is, using "The Attention Snap." You'll learn the DEAD SIMPLE maneuvers that are guaranteed to make her stop and grab her attention.
The exact body language to use – what to do with your hands, how to stand and how to run up to her and stop her in a way that doesn't startle her.
Exactly what to say to start the conversation – As I've already shared, what you say and how you say it is completely different to nightgame because you MUST show interest otherwise she'll be weirded out.
How to signal the RIGHT amount of interest to spike her attention and prevent weirding her out.
How to come up with your OWN lines so you don't have to pretend to be someone you're not (and just in case, to get you started we'll even give you the personal lines that me and Yad use.)
How to smoothly transition from the approach, into natural flowing conversation using "Assumption Stacking". By using "Assumption Stacking", you'll plant the foundations of the next phase, The Attraction Phase…
Module 2: "The Attraction Phase"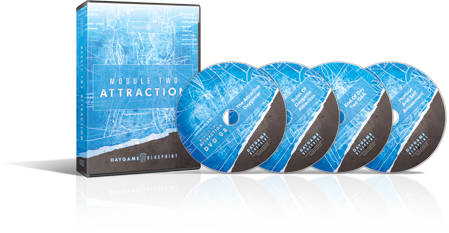 Now if you only use the techniques in the Capture phase, you'll become an approach machine.
BUT your approaches still won't go anywhere because you still haven't have triggered her attraction switches in order for her to want to give you her number or arrange a date.
Every woman has a set of attraction switches and once you learn how to trigger them, you'll be able to get any woman you meet ADDICTED to you, especially that stunning 10 that most guys wish they could have.
For example, there's certain things you can do with your body language, voice and eye contact that trigger sexual arousal early in the interaction with a woman. So you'll learn…
How to create the most fun and flowing conversations she's ever had by using "Assumption Stories". You'll NEVER run out of things to say once you learn this simple skill.
You'll learn how to read HER body language so you know when she's the most interested and when it's the right time to ask for her number. This way you save the embarrassment of guessing and getting it wrong.
How to get her to flirt with YOU by using Challenging and "Push/Pull." Using techniques like Challenging and Push/Pull will make you the most memorable guy she's ever met. They will put her on an exciting emotional rollercoaster that no guy has been able to do and SHE'LL BE ASKING YOU FOR YOUR NUMBER. (these are the favourite techniques amongst the people we show the blueprint to because they work best on the Hotter women.)
How to use your voice to keep her hanging off your every word. This was a big sticking point for me as I found I mumbled a lot and girls would have trouble understanding what I was saying. Well, the vocal techniques we show you will keep her captivated regardless of the actual words that are coming out of your mouth.
How to stand in a way that conveys confidence, dominance and makes her feel safe around you.
"The Natural's Smile" – this simple technique will make her feel at ease instantly and will make her want to stay, no matter what she was doing before you stopped her.
How to read HER body language so you know when she's the most interested and when it's the right time to ask for her number. This way you save the embarrassment of guessing and getting it wrong.
Module 3: "The Rapport Phase"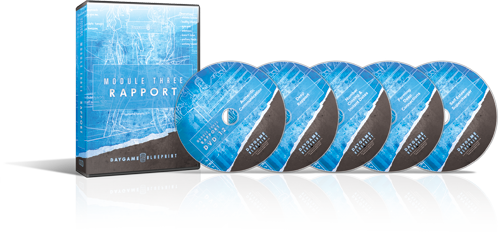 By using the techniques in the first two modules, you'll have the ability to stop any girl you like and get her interested in you, sometimes to the point where she'll give you her number. Your friends will see you as a legend.
So the numbers are guaranteed. You'll have some amazing interactions.
But without using the simple steps in the Rapport Phase, the numbers will probably flake.
The girl won't feel like she really connected with you and she won't reply to your texts or phone calls as she won't have built enough trust with you.
A FULL SET of conversation topics you can use and how to use "Authentic Communication" she opens up to you. By using "Authentic Communication", she'll feel like she's known you forever.
How to connect with women on a deep emotional level using "Deep Rapport". (If you've ever had a problem turning a girl into your girlfriend, or if you've ever wanted to get that TOTAL 10 who seems way out of your league, you'll want to watch this. Please use this one responsibly because not texting her after you've gone this far with her could emotionally devastate her as she'll feel so close to you.)
The single secret to getting her to do ALL the talking, which will make her invest and start PICKING YOU UP while you just sit back and relax.
A simple way to get her number (just incase she hasn't given it to you herself already) and we'll lay out the steps to taking her on what is me and Yad's favourite – an INSTANT DATE. – An instant date is where you take her to a new location during the interaction – usually a coffee shop. And what it does is rapidly builds an emotional connection with her and increases your chances of getting a bounce back – which is taking her back to your place.
What TEXTS to send her and when to send them to ensure you see her again date and prevent her from flaking on you.
Module 4: "The Seduction Phase"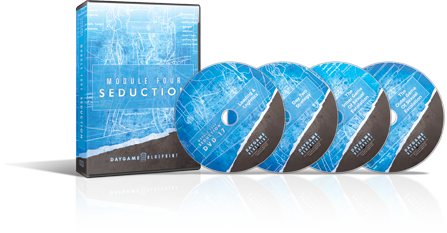 This is the module where you'll learn the step-by-step techniques to make the girls you approach beg to sleep with you.
In this module, you'll learn the inner and outer game of sexual escalation.
The inner game of sexual escalation will show you how to have sexual confidence so you don't get nervous around her when things start to get serious.
The OUTER game of sexual escalation is the physical actions you have to take in order to make her comfortable with sleeping with you.
Now Sexually escalating after a daygame interaction is very different to bringing a girl back from a nightclub. There's a few objections you have to overcome in order to prevent her from feeling bad about it.
Because being picked up during the day isn't something she'll be used to, you have to escalate a certain way.
So you'll learn how to sexually escalate smoothly when she's at your place so she feels completely comfortable in your presence and doesn't feel the need to resist at the last minute.
And you'll learn how to take the lead, turn her on sexually and get her uncontrollably aroused by using what we call "Physical Push-Pull"
Here's a small taste of what you'll get in this module:
How to SEXUALLY ESCALATE SMOOTHLY when she's at your place so she feels completely comfortable in your presence and doesn't feel the need to resist at the last minute.
How to take the lead, turn her on sexually and get her uncontrollably aroused by using what we call "Physical Push-Pull"
A Start-To-Finish strategy for DAY TWO dates – you'll get a fail-proof step-by-step strategy for ensuring dates always end up back at your place (or hers).
How to DESTROY sexual anxiety – if you don't handle this women will downright refuse to sleep with you and they won't be able to give you a logical answer.
The ONE item you MUST have in your house and how to setup your bedroom to make sex inevitable.
The easiest way to get her to KISS YOU that works every time and flips the script, making her seduce YOU into bed.
Module 5: "Advanced Daygame"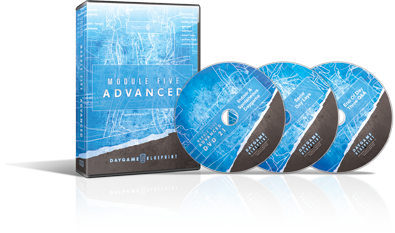 In the Advanced Daygame module, you'll learn some advanced tactics – these aren't for beginners and should only be used once you've been through the first 4 modules.
You'll learn the exact steps to getting Same Day Lays so you can sleep with a woman within minutes of approaching her.
And here's the best part… we show you INFIELD footage of a bounce back from start to finish to demonstrate EXACTLY how it's done.
Alongside this, you'll get the complete guide to indoor and situational daygame.
You'll learn specific approaches and lines for opening girls in shops, malls, cofee shops, grocery stores, galleries, museums.
You'll also learn the right way to start a conversation with a girl on a bus, train, the metro and even a plane.
You can't use the same openers that you would on the streets in many of these situations because in the girl's mind, she has nowhere to go if she's uncomfortable.
That's why we go into detail explaining how to convey the right amount of interest so she feels comfortable and so you come away with the number and a date.
Now everything i've mentioned is just scratching the surface. You'll also learn:
How to HANDLE OBJECTIONS and tests from the girl.
The Colin Stop – this super-direct approach accelerates the speed of the daygame interaction. It conveys an overwhelming level of confidence – It's one you have to use with caution and it will half the time it takes to get from the approach, to the bedroom.
How to approach GROUPS OF WOMEN and how much attention you should place on each girl in the group – this is the opposite to what you might think and is very different to talking to groups in nightclubs.
How to get Rock Solid Inner Game to the point where your new found confidence is easily noticeable by women and so you can effectively deal with unexpected situations.
A "Self Esteem Supercharger"
How to filter your success with Daygame into other areas of your life.
INFIELD FOOTAGE of a BOUNCE BACK (this is where you bring the girl back to your place within MINUTES of meeting her)

Your purchase will appear on your bank statement under the name "DayGame8447827613" and will allow for a refund within 30 days from date of purchase. Day Game Blueprint is available for an initial purchase price of 69.99 and will continue after 30 days for a price of 69.99 per month. You may cancel your subscription at any time and will not be charged again. Information submitted in conjunction with this order is handled within the constraints of our privacy policy.For additional details on terms of your purchase see our terms of service. By placing your order you agree to all terms of the sale, including those above and in our terms of service here.